Our Services
Serving Los Angeles County, Orange County
BR Pallet in Compton, CA is here for all your commercial and industrial pallet needs. We have bilingual sales and services to help you get the best selection and best deals around. We have the largest inventory of pallets and skids in Southern California, at over 5,000 pallets in stock. Our services include pallet sales, pallet recycling, pallet repairs, free same-day delivery, pallet pickup, and more. Give us a call at 310-283-0497 to find out more about our available services:

* Pallet Sales
* Pallet Repairs
* Free Same Day Delivery
* Pallet Pickup
* Se Habla Espanol
About Us
Pallets Compton CA
At BR Pallet, we have over 5,000 pallets and skids in stock for all your commercial and industrial business needs. We have all types of pallets, from traditional A, B, new wood, and heat treated wood to odd-sized, heavy-duty, and custom, unique pallets to meet your specific needs.

Our services include bilingual sales and services, pallet sales, pallet recycling, pallet repairs, free delivery, same day delivery, and pallet pickup. We offer reconditioned wood pallets and have wood pallets in all standard sizes, plastic pallets, and wood boxes. We also sell wood crates and Gaylord boxes.

BR Pallet in Compton, CA specializes in having the right pallets for the right jobs. We offer free consultations if you've never worked with pallets before, so you get the right pallet that is strong enough and appropriate to the job being done. For all your pallet needs, and the largest inventory in Los Angeles County and Orange County, stop in or give us a call!
Products
* Reconditioned Pallets
* Wooden Pallets
* Plastic Pallets
* Recycled Pallets
* Wood Boxes
* Wood Crates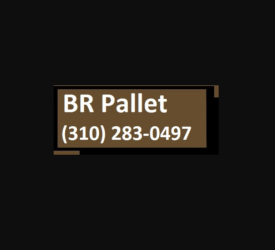 Pallets Compton CA
---
https://palletscompton.com
Payment Methods
Check, Cash